6:30 – 7:00 pm
Family Meals 
You don't have to struggle to feed the family on Wednesdays, we've made it easy for at least one night of the week…
Join us for a full meal, desserts and great fellowship!
7:00 – 8:00 pm 
Children and Student Activities
Kidz Zone- Miss Claudia welcomes kids ages 5-11 to join in Bible Adventures with fun crafts and discussions.
 Youth Group-  For teens ages 12-18, Bible discussions, games and fun activities!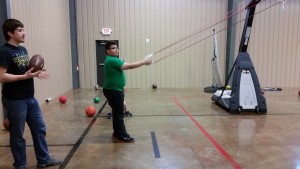 Youth Group playing life size angry birds
Adult Bible Study- Pastor Debbie facilitates a Biblical discussion with the Adults followed by a prayer time.
Music Ministry– Pastor Paul, Music Minister is looking for new and excited people to join our Sunday Praise and Worship team. They practice Wednesday nights and Sunday morning. If you would be interested please talk with Pastor Paul!